Our coaches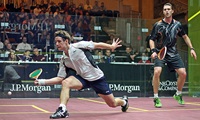 Aaron Frankcomb
Improve your squash game with Aaron Frankcomb
If there is one aspect of the game you are unhappy with, Aaron will give you the edge you need to turn your weakness into a strength.
Currently Number 1 in NSW and still considered in the top 5 in the Australian men's rankings, Aaron will guide you to develop advanced skills to take your game to the next level regardless of your age or current ability level.
Aaron reached an impressive #38 in the World PSA Rankings (winning 4 PSA titles in total), played 8 of the world's top 10 players, in 2009, won the Premier Squash League in England (the strongest squash league in the world and represented Australia at the World Team Championships and Commonwealth Games.
A scholarship recipient of the prestigious Australian Institute of Sport (AIS), he worked with some of the most accomplished coaches including: Geoff Hunt (considered to be one of the greatest squash players in history), Rodney Martin (who beat the legendary Pakistani player Jahangir Khan in 1991), and the incredible David Pearson (coached the England National Team and multiple World #1s).
Ambitious and competitive from a young age, Aaron was Australian Champion in all his age groups at the Australian Junior Championships for under 13, under 15, under 17, and twice for under 19.
Aaron is the founder of the East Coast Squash Academy. With 25+ years of squash playing and 16 years of coaching experience of which six years included full-time coaching, he intimately understands sports science and psychology of the game including deliberate practice principles. Aaron is also a representative NSW Junior State Coach.
Whether you're a junior or a senior, the academy offers individual and group coaching to match your level of proficiency and ambition to incrementally improve your game or stay at the top of the rankings.
Aaron is available all day Monday to Sunday, 6am to 10pm. He is also able to restring raquets and help with equipment.
Book a private coaching session.
Call Aaron on 0424 474 001.
Download Aaron's coaching poster (PDF).